Magazine • the Silk Thread of Gorindo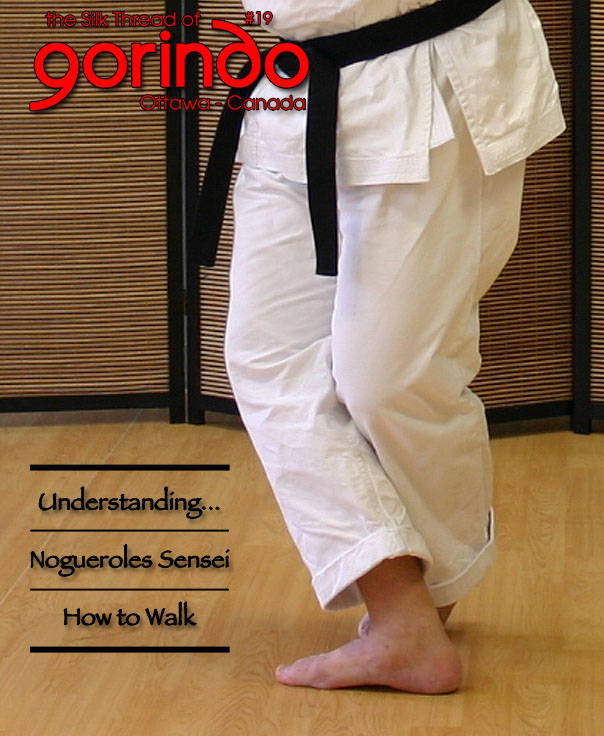 The Silk Thread of Gorindo - Ottawa - Canada
Issue 19
- Visit of Maestro Vicente Nogueroles
Photo cover 'Claudio Iedwab's step' ©2012 Photo by Roxanne Standefer
Kihon - How to Walk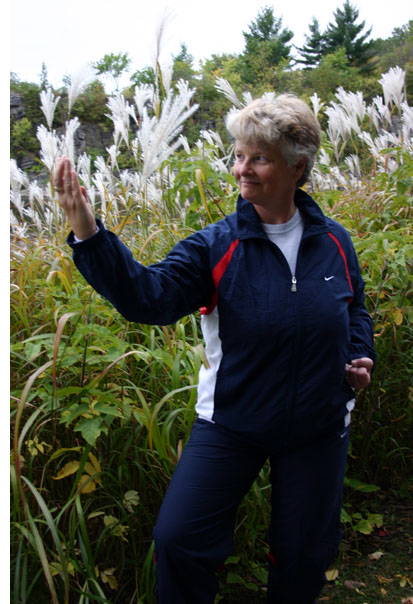 Stepping


After training diligently in the art of standing and assuming different basic stances, we are now in condition to walk and move with each one of them.

If we analyze the sequence of action that occurs during a normal step, as when we walk in the street, it will be very easy to see it as just a falling forward while moving the center of gravity beyond the base of support. It is done in a controlled manner in which the swing of one leg will "catch" the fall, recovering the balance and repeating the "fall" once again. During our early years of developing motor skills, walking was just the same as described above with the help of a close wall, a piece of furniture, or a loving parental hand.

Stepping in the martial arts will repeat the same sequence of actions as when you walk normally and casually, but it will add correct balance and the necessary control of direction, speed and rhythm.

Stepping correctly is very important for the martial artist. In the beginning the practitioner may find the new walking manner a little bit awkward while adapting to the new mechanics. Although it may seem very basic, the more you advance in your training you will come to see the nuances, subtleties and difficulties of truly moving with flow, balance, looseness and agility. Keep in mind while learning that the ability to identify and control your center of gravity is vital to all technique, and comes from the patterns and responses you develop early on. It provides an intense sense of commitment and control when we want to go and move towards an intended direction. It is also a very important element that will integrate timing, distance and tempo in the rest of your movements.

Most of all, it provides a sense of control of oneself, doing what you really want and going where you really desire; deepening the path of such matters into a very fulfilling principle to apply in everyday life activity.
Perhaps we will never use stepping as is trained in a self-defense situation but the intentions and decisions that we have exercised and acquired during the practice will be very useful in such cases as well. From the learning point of view, it also provides a safe way to learn and know how our balance and center of gravity play their roles before moving on to more elaborated techniques.


• Stepping gives a real sense of distance and space around us.

• Strengthens the legs and feet.

• Allows a better alignment of the spine.

• It is also a good low-impact cardiovascular exercise with an appropriate rhythm.

• It will add and apply power to other techniques.

• It also can break the opponent's balance, while managing your own.

• It allows you to learn the weak point of your opponent's balance, while learning and correcting your own.

• It can be used as a way of avoiding any attack or redirecting the opponent's energy.
by Claudio Iedwab & Roxanne Standefer
Originallly published in the Gorindo Student Manual by Claudio Iedwab & Roxanne Standefer
Roxanne Standefer 'haito-uke' ©2011 Photo by Claudio Iedwab
- Visit of Maestro Vicente Nogueroles
« Click the Subscribe link on the left