Magazine • the Silk Thread of Gorindo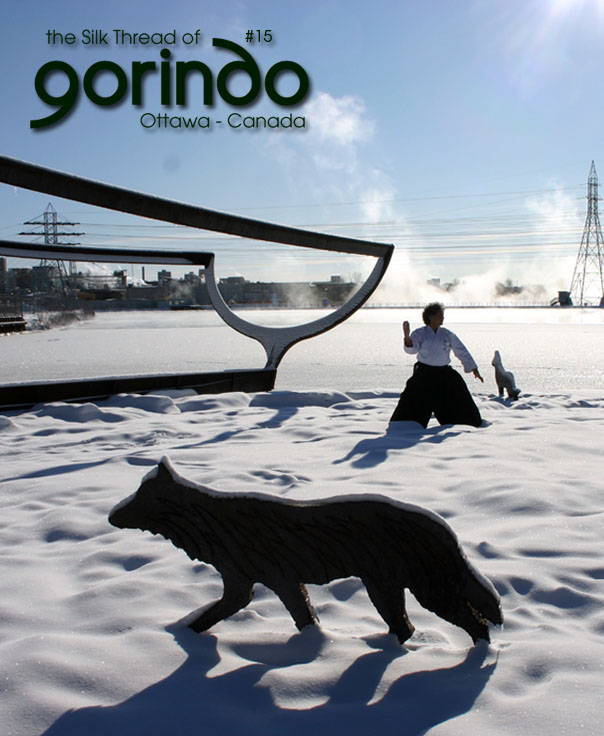 [Click image to expand]

The Silk Thread of Gorindo - Ottawa - Canada
Issue 15
Photo cover "Claudio Iedwab at -20°C - Ottawa River" by Roxanne Standefer sensei, 29th December 2011.The Sculpture owned by the NCC is called Boat Sight by John McEwen (1984).
The boat (representing culture) comes in to shore and the wolves (representing Nature) are curious and cautious. The location is the voyageur portage around the Chaudiére Falls in Hull, Quebec.
[Click image to expand]
Lessons From Nature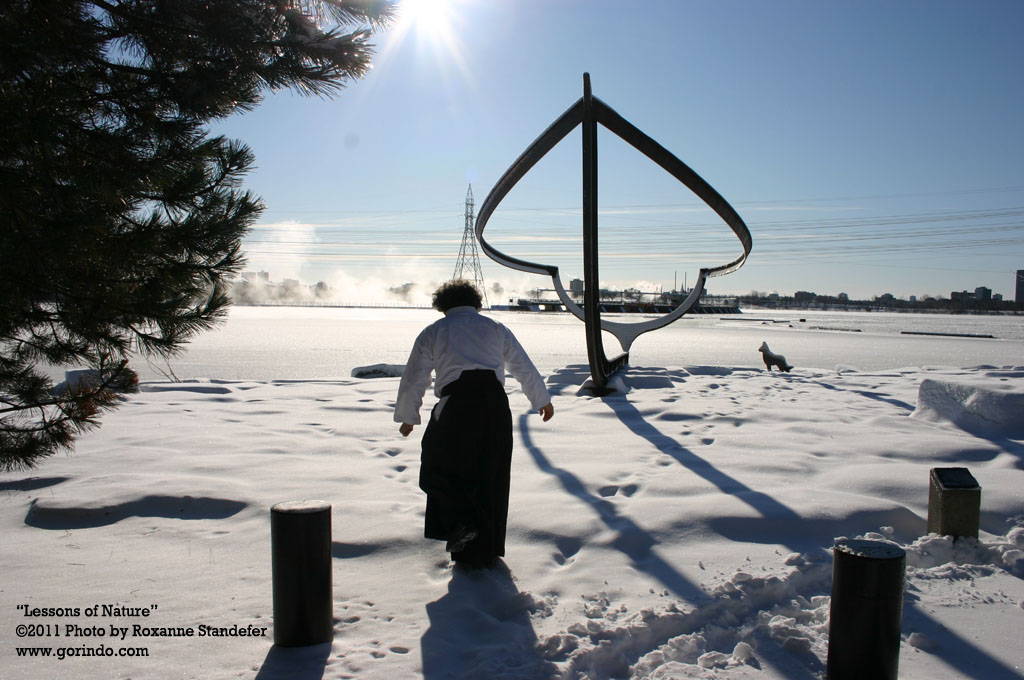 [Click image to expand]
There are many lessons that can be taken from nature to illustrate the Meditative Kiai. It is not coincidence that those who are interested in Zen or meditation find themselves drawn to natural surroundings and seek peace and quiet in the wilderness. It is not only because they wish to eliminate distractions but for some it is because they find that immersed in nature there is almost no need to meditate! It might be better said that in the contemplation of nature and the refinement of breathing fresh air, the meditation becomes more full, alive and aware. In a city, or a situation that has tension, anxiety or danger, the need to meditate formally (in the conventional sense of closed eyes and quiet sitting) is more immediate and essential as a balance to external forces.
To reach this meditative state imagining a calm place in nature can help the practitioner return to its relaxed clarity more readily. A period of meditation can help restore energy and cushion the blows of any onslaught. Ideally the more experienced practitioner can remain in that meditative calm or at least return to peaceful equanimity readily.


Embracing the Environment

It is important to ensure that the Meditative Kiai is not used to block off the senses or the quality of human experience. As a being with a place in Nature it is vital to embrace the natural environment wholly and have more regard for its cycles and interdependencies. We are blind to essential reality if we fight this truth and on a very practical level we are only damaging our own nests.

Our human organism is a product of natural processes. We would be remiss to ignore the conditioning and instincts that are simple responses to stimuli. Some are dictated by genetics and environment, but like many organisms we also have the ability to make choices, adapt and re-configure our surroundings.
The fact that humans by and large haven't made very good choices is probably the whole reason that we have to have martial arts at all. They evolved out of our inability to make equitable arrangements to share resources and territory, and our need to defend the means of survival from others who would have us lose it. It may be a sorry beginning for a system that has progressed into something more useful and beautiful, yet if we continue its evolution then it can become even more practical to peaceful existence as a species. Perhaps self defense of the individual will give way to self defence of the species and the planet.

Understanding our physical organism and exploring the mental energies that keep it going can help us improve the quality of our existence. The mind is curious by nature and yet we become conditioned by constant external stimulus. The energy and effort required to stop the controlling effects is greater than to revert the conditioning or change our responses. Doing this through meditation we gain access to tools that can break dependency and help us achieve inner freedom. Not unlike hypnotism, it can be used to remold patterns of behavior, emotions and feelings. It opens channels to transformation of personality structures and expression but it can be sabotaged easily because it is subject to manipulation. Meditation is not an escape from reality, it is full awareness and enjoyment of the present and the presence of one within it.

A harmonic existence with clear mind, transparent spirit and a conscious body is the status quo of the Meditative Kiai. Once the self has achieved a non-distracted state, then it is time to expand the sphere of awareness, consciousness and oneness with the environment. Joy and crispness of reality can provide a greater value for the intentionally of life as well as a concrete and palatable sense of existence. Temporal and permanence are fused in a transcendental way. The Meditative Kiai will come to permeate all the other Kiais through the course of training. Its path is not linear but circular with an ever expanding radius, like the reverberations outward of a pebble dropped in a still pool.

To go with the flow does not mean to stop swimming and drift aimlessly. A canoeist negotiating a series of rapids learns to avoid working against the current when it is just flowing too strongly or at a point in the river where the reaction could turn you over onto the rocks. But she also knows to stay close enough to the natural flow of the stream to utilize its power and so that this energy can be used to spin off in a new direction or exit the current into an eddy. This is the same with martial arts. Increasing the sensitivity and awareness of the energy flows around us is a fundamental purpose of the Meditative Kiai.


Welcoming Silence

Our verbal skills and visual sense tend to dominate our mental processes. To sit without speaking for a while helps to stimulate our hearing, awareness of gravity and tactile responses. Many people are not comfortable with silence. For some the universe becomes frighteningly loud or they don't like to hear their own thoughts. When we look at how rarely an urban or home environment anywhere is without voices of some sort, TV, radio, appliances, trucks on the street and so on, we realize it is a good idea to get one's thoughts in order every once in a while. To do this it is necessary to calm the mind before housecleaning.
Meditation is one way to do this and exercising or working in a focused way is another. To create a work of craft or art is an enjoyable way of expressing this state of mind. The Meditative Kiai applies to all of these.
by Claudio Iedwab & Roxanne Standefer
Excerpt from "Martial Arts Mind & Body" by Claudio Iedwab & Roxanne Standefer. See also their e-books available at askSensei.com >>
©2011 Photo by Roxanne Standefer
« Click the Subscribe link on the left