Magazine • the Silk Thread of Gorindo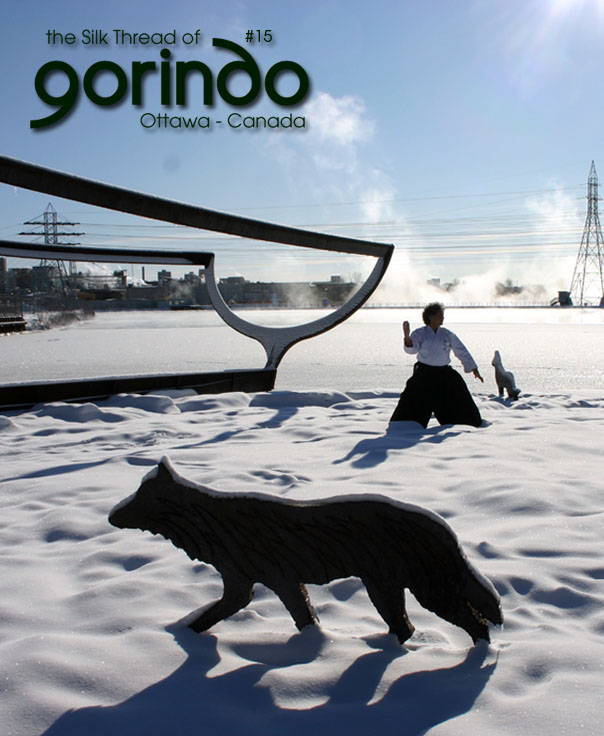 [Click image to expand]

The Silk Thread of Gorindo - Ottawa - Canada
Issue 15
Photo cover "Claudio Iedwab at -20°C - Ottawa River" by Roxanne Standefer sensei, 29th December 2011.The Sculpture owned by the NCC is called Boat Sight by John McEwen (1984).
The boat (representing culture) comes in to shore and the wolves (representing Nature) are curious and cautious. The location is the voyageur portage around the Chaudiére Falls in Hull, Quebec.
[Click image to expand]
Lessons From Nature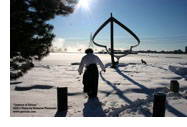 There are many lessons that can be taken from nature to illustrate the Meditative Kiai. It is not coincidence that those who are interested in Zen or meditation find themselves drawn to natural surroundings and seek peace and quiet in the wilderness.
The Dojo
Dojo, 'the place of enlightenment' is an idea derived from the Sanskrit bodhimandala referring to the place where the monks meditated or made their spiritual exercises. Today the term is applied also to the places where the Martial Arts are practiced.
High Block - Shodan Age-uke
The high punch is directed between the upper lip and the nose, and the shodan age-uke, high block, protects this target area. This technique protects the face and head. It is a deflecting block when applied correctly, not a stopping defense.
Glossary of Terms
Pearls of Gorindo...
Do you wish to Unsubscribe?
Click here to confirm and your email address will be removed from our list.
Please provide your valuable feedback, thank you.