Magazine • the Silk Thread of Gorindo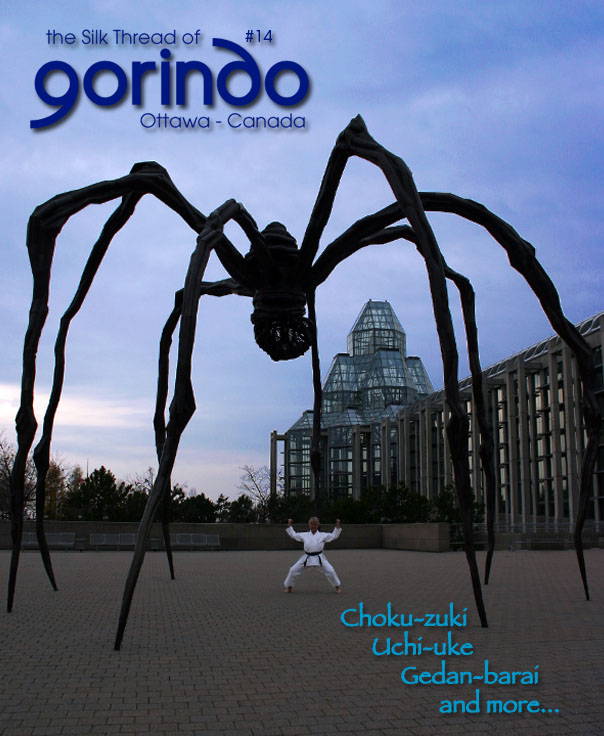 The Silk Thread of Gorindo - Ottawa - Canada
Issue 14
- Middle Block In-outside - Uchi-uke
- Downward Block - Gedan-barai
Photo cover Roxanne Standefer sensei with Louise Bourgeois's Maman, a sculpture of a giant spider outside the National Gallery of Canada's main entrance, Ottawa, Ontario, December 2011. Photo by Claudio Iedwab.
Tools - Hands - Seiken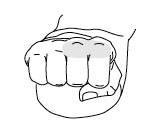 To form a correct fist is simple but there are some important details to observe and maintain in order to prevent injury.

Hold your hand out in front of you as if about to shake hands. Close the hand gently, bending the (short) nails inside the palm. Place the thumb, slightly curved, on the outside of the knuckles without letting it extend outside the fist where it could be hooked or damaged. It is important to hold the fist firmly but not clenched too tightly, which creates unwanted tension all the way up the arm and across the chest.

The striking surface of the fist is the area of the two large knuckles of the index and middle fingers, seiken. The wrist must be kept straight in line with the forearm and back of the hand on both planes; up and down and side to side.

by Claudio Iedwab & Roxanne Standefer
Originallly published in the Gorindo Student Manual by Claudio Iedwab & Roxanne Standefer
©2011 Illustrations by Claudio Iedwab
- Middle Block In-outside - Uchi-uke
- Downward Block - Gedan-barai
« Click the Subscribe link on the left