Magazine • the Silk Thread of Gorindo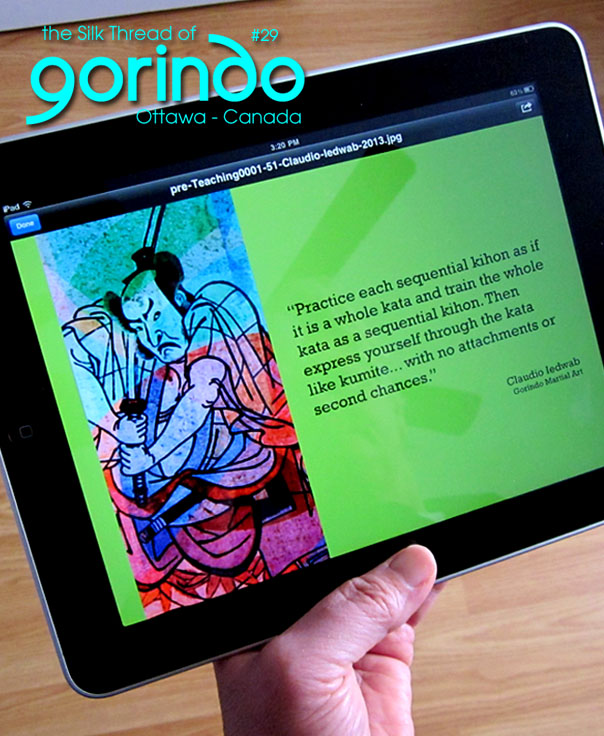 The Silk Thread of Gorindo - Ottawa - Canada
Issue 29
- Technique: Haito-uchi in a whip motion
Cover 'Pearls of Gorindo for Teachers - ebook' - Photo by ©2013 Claudio Iedwab
Being Ready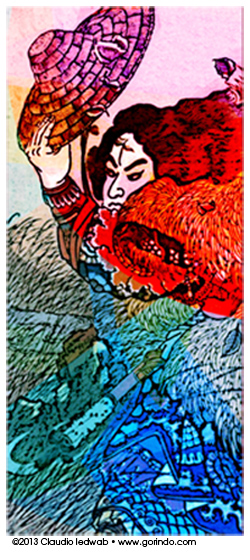 In medieval times warriors sometimes had to help their community by fighting invaders or robbers who wanted to harm their people. Samurai warriors would travel great distances to fight in wars for other people that their master had promised to defend. Even today we have military people who try to bring assistance and end warfare in many regions of the world.

The warriors of today also help to defend the health and safety of people who need help. When a natural disaster like a tornado or earthquake strikes, military and volunteer personnel organize to provide assistance to thousands of people. Because they are trained and ready, they can be among the first to arrive on the scene with food, shelter, and fresh water.

Emergency medical professionals are like warriors too because of their hard work, training, and the risks that they take to help others.

Being ready, like a warrior preparing for a battle, is different for a martial artist. It does not mean having a gun or looking forward to going out and fighting. It means being healthy and strong and organized. It means being willing to give your time and to suffer some discomfort to make life better for someone else. It means being alert and awake and looking around you to see what can be done. A martial artist is always ready to jump up with positive energy and good attitude. Taking care of your health so that you can do the best that you are capable of is a valuable warrior tradition that has been passed down to martial artists.

Thinking ahead is part of being prepared and ready for anything. Your training teaches you to know in advance what you are going to do and to focus your energy in that direction. Lifeguards, emergency personnel, airline pilots, boat captains, and organizers of large events all have to plan ahead and think about what might happen. Sometimes accidents do happen and good preparation can make sure that help is nearby and ready to make things better.

Excerpt from the "The Peaceful Way - A Children's Guide to the Traditions of the Martial Arts" published book by Claudio Iedwab & Roxanne Standefer available at askSensei.com >>
© 2013 Artwork by Claudio Iedwab
Issue 29
- Technique: Haito-uchi in a whip motion
Cover 'Pearls of Gorindo for Teachers - ebook' - Photo by ©2013 Claudio Iedwab
« Click the Subscribe link on the left