Magazine • the Silk Thread of Gorindo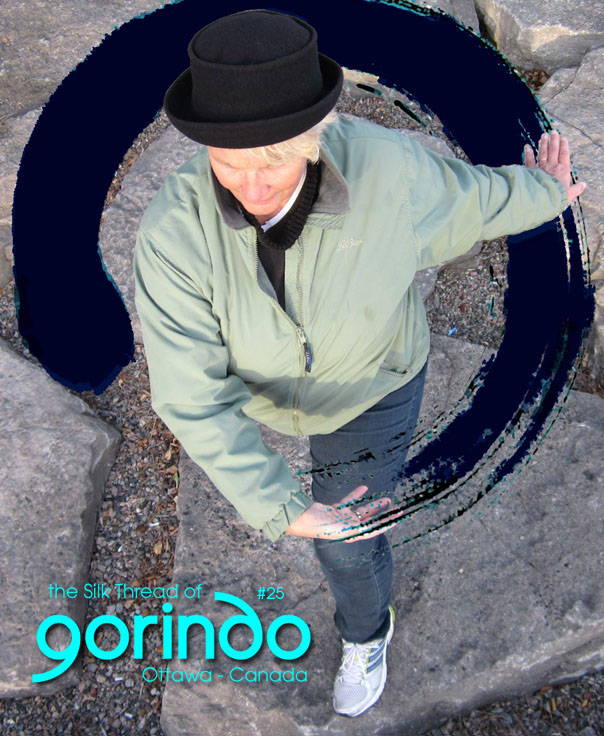 [Click image to expand]

The Silk Thread of Gorindo - Ottawa - Canada
Issue 25
- Keeping in Line with Your Spine (Part 3)

- Keeping in Line with Your Spine - Exercises
Cover Roxanne Standefer Sensei 'Air Enso' - Photo by ©2012 Claudio Iedwab
Keeping in Line with Your Spine - Exercises
Swing the Pendulum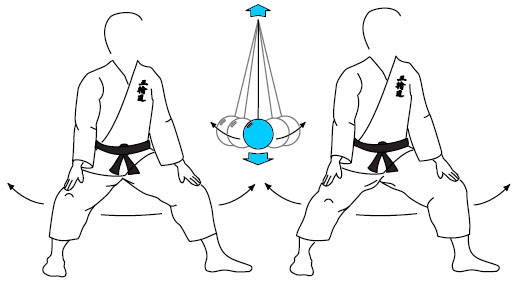 Stance: In fudo-dachi, or "rooted stance," with feet two shoulder widths apart, and aligned at a 90° angle.

Action: Place hands on thighs and use them as sensors to feel the body weight shifting in the manner of a pendulum. Imagine the pendulum string fixed to the top of the head, holding the plumb, in this case the hips, free of tension, thus straightening the spine by the effect of gravity. Feel within the body as if you are sitting and floating in space without the need of any support under the buttocks. Keep knees gently flexed and slowly swing the hips forward and backward, with the head stationary. Let the muscles of the hip area, abdomen, and lower back achieve a point free of tension, with a gentle and enjoyable natural breathing pattern.

Duration: Play with the gravity. Instead of feeling it on the shoulders, head and spine, visualize the string pulling up to lighten the weight carried by the legs. Start with full oscillations and then decrease the amplitude until reaching a middle point where the pendulum can come to rest.

Note: All the exercises and techniques should be practice only under the direct and personal supervision of an authorized Gorindo instructor, they are presented as a form of an online sample guideline for active and registered 'Intro Level' Gorindo students.
by Claudio Iedwab & Roxanne Standefer
Originallly published in the Gorindo Student Manual by Claudio Iedwab & Roxanne Standefer
© Illustrations by Claudio Iedwab
Issue 25
- Keeping in Line with Your Spine (Part 3)

- Keeping in Line with Your Spine - Exercises
« Click the Subscribe link on the left