Magazine • the Silk Thread of Gorindo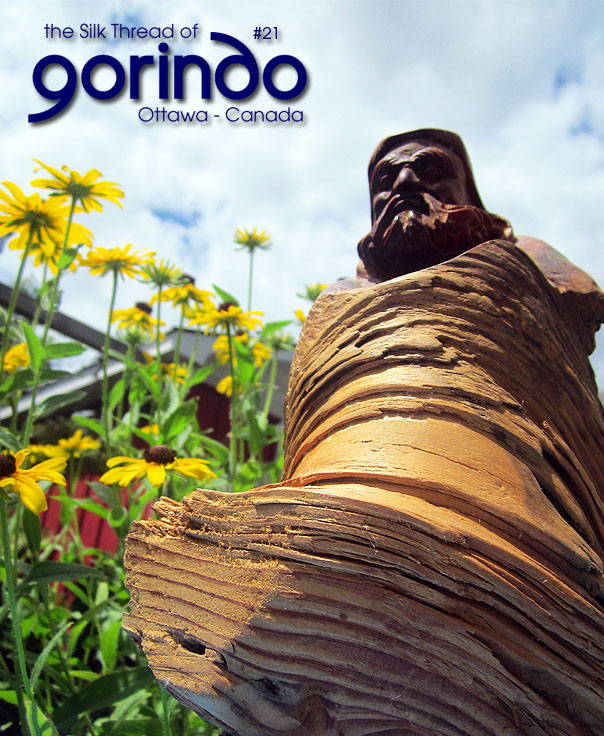 The Silk Thread of Gorindo - Ottawa - Canada
Issue 21
- Kihon - Gorindo 2nd Basic Series
Photo cover 'Little Garden Meditation' by ©2012 Claudio Iedwab
Kihon - Gorindo 2nd Basic Series
The purpose of the Gorindo 2nd Basic Series is to acquaint the beginning student with the "pre-steps"; how to coordinate the upper body moves with the foot work, get a notion of steps backward, forward and sideways, how to look first before the execution of the technique and awareness of the 180° front space.
It is a repetitive exercise practiced on the right and left side using basic stances and blocks. It should be performed slowly at first, hands on the hip, with the emphasis on correct stances.
Soon it will be possible to coordinate the upper body techniques with the "pre-steps." As coordination and body awareness improves the pace can be increased, but a smooth energetic rhythm should be maintained. As the series becomes more familiar the focus of attention shifts to awareness of the center of gravity, the center line of the body, and the dimensions of the body in different planes.

The whole series is composed of three sections. The first is done with chudan uchi-uke (middle in-outside block); the second with gedan-barai (downward block) and the third with shodan age-uke (high block).

Once you feel comfortable with its execution then add chudan gyaku-zuki (middle counter-puch) after each defense.
Foot work for one section:
Start in heiko-dachi.

1. Stepping backward with the right foot in kokutsu-dachi and return forward to heiko-dachi.

2. Stepping forward with the right foot in zenkutsu-dachi and return backward to heiko-dachi.

3. Stepping outside with the right foot in kiba-dachi and return in to heiko-dachi.

4., 5. and 6. is a mirror image using the left foot.


Comments:

• Loud joyous kiai (shout) on the kiba-dachi of each section.

• Maintain eyes looking forward except in kiba-dachi where you will turn your head to the side and look in the direction of the step.

• Muscles should be relaxed in the preparation phase of each technique and tensing only those required for the strike or block in the execution phase.

• Do not hold the breath, try to exhale with the technique. Avoid the hyperventilation that can result from breathing in with rapid shallow gasps. As the speed of execution increases, the breath might be exhaled over several repetitions. Relax and breathe naturally.
2nd Basic Series
(with hands on the hip)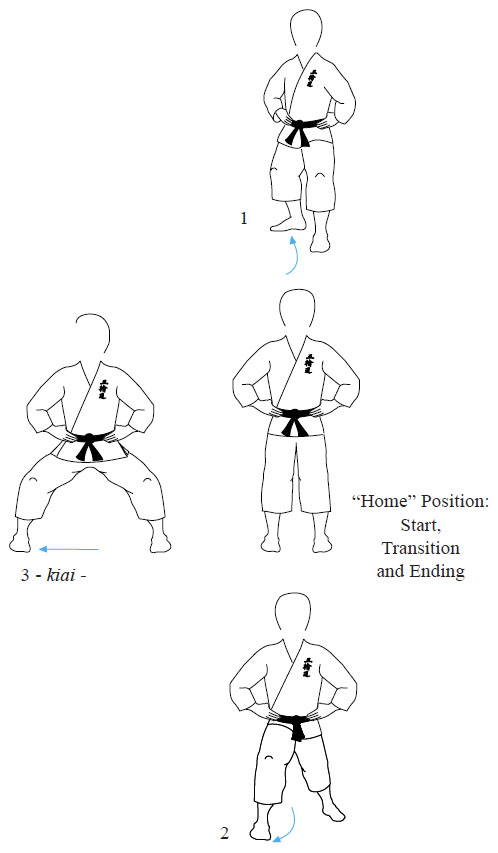 by Claudio Iedwab & Roxanne Standefer
Originallly published in the Gorindo Student Manual by Claudio Iedwab & Roxanne Standefer
© Illustration by Claudio Iedwab
- Kihon - Gorindo 2nd Basic Series
« Click the Subscribe link on the left