Magazine • the Silk Thread of Gorindo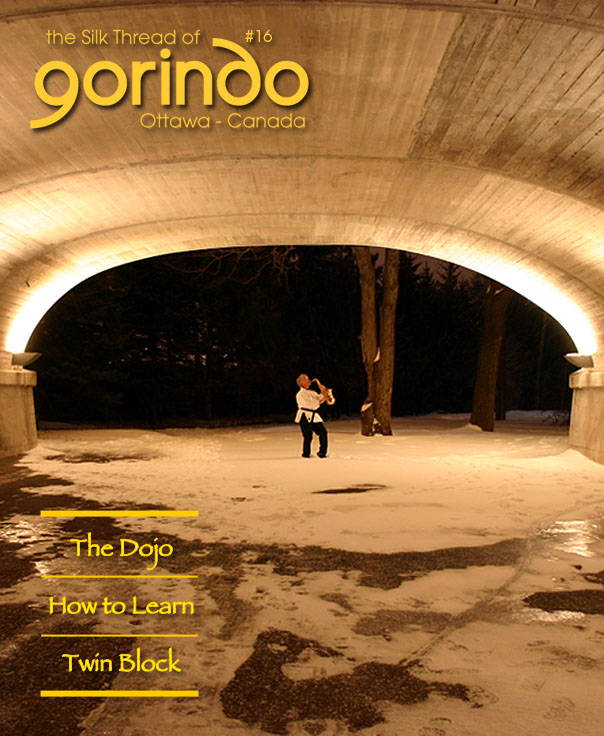 [Click image to expand]

The Silk Thread of Gorindo - Ottawa - Canada
Issue 16
- Twin Block - Chudan Kakiwake-uke
Photo cover "Roxanne Standefer sensei under the Bank Street Bridge - Ottawa" by ©2012 Claudio Iedwab [Click image to expand]
How to Learn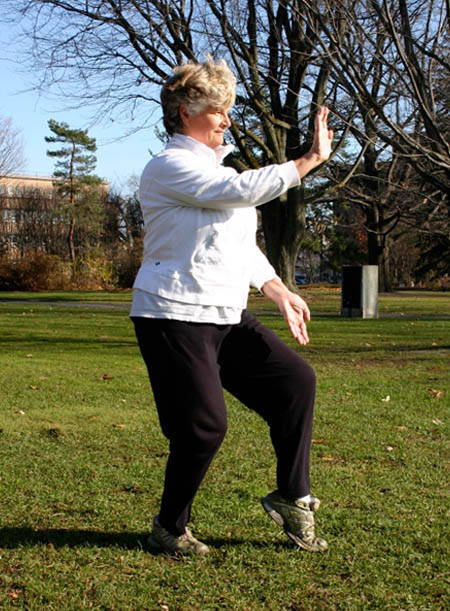 Everyone expects to learn something from their study of the Martial Arts. Most people, however, are unaware of the range, depth and complexity of the learning that Gorindo has to offer.

The less the student brings of his or her own terms of reference, and the more the study is approached with a simple open mind, the more enjoyable and successful the experience will be. This is not to say that the student will not have questions that need to be answered, or preconceived notions that need to be addressed. The important thing to remember is that the student has embarked upon a journey that begins with the most simple steps. To try to understand immediately the reasons for everything you practice and everywhere it will lead you can bring unnecessary complications. Sometimes, as a beginner, you do not yet know enough of the big picture for the answers to be useful to you. Remember as well, that discovering answers (and more questions) through your practice of techniques is part of the process of learning in Martial Art. Sometimes you have to "just do" before intellectual analysis can be effective.

Nevertheless, do not be afraid to ask questions of your sensei or senior students but do not be surprised if the answer they give you is not what you expect. By all means observe, think and question, but do not question the answers. Try them out. Trust in the teaching. Learn to accept and explore the lesson of the moment.

Don't be in a hurry and try not to get frustrated with yourself. The beginner is often evaluating themselves on a superficial level where progress is measured by the number of techniques learned, which kata you are practicing, how high the kick and how far you can stretch. Your teacher, however, is concerned with real progress and the quality of your practice; both mental and physical. Learn the basics well and you will be rewarded with consistent improvement and far fewer detours, pitfalls, injuries or disappointments.
Remember that there are no short courses in Gorindo, nor short cuts. It is a lifelong study that can offer continuous enrichment and challenges. Return to the basics often. Train honestly and eagerly without making assumptions. It is easier to grow a flower if you don't have to dig out a snarled bed of weeds first.

by Claudio Iedwab & Roxanne Standefer
Originallly published in the Gorindo Student Manual by Claudio Iedwab & Roxanne Standefer
©2011 Photo by Claudio Iedwab
- Twin Block - Chudan Kakiwake-uke
« Click the Subscribe link on the left